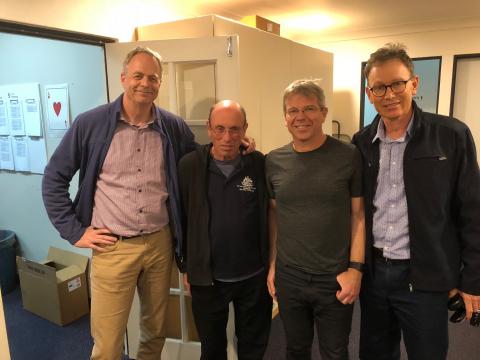 The Final of the club's premier teams event for 2018 - the Watermark Club Teams Championship - was won by
the Korenhof Team - ANDRE KORENHOF, MAURITS VAN DER VLUGT, MATTHEW THOMSON and DAVID BEAUCHAMP.
Runners up were the Abel Team - 
JULIAN ABEL, GARY LANE, DAVID SMEE and ALEXIS NGAN.
Third were the Kalmin Team - 
LYNN KALMIN, LORNA ICHILCIK, DAVID WESTON and HELENA DAWSON.
The Clarke Team came fourth - 
GARRY CLARKE, SALLY CLARKE, DAVID HUDSON and .ANITA CURTIS.
The Watermark Minor Championship was won by the Beeby Team - 
JANE BEEBY, MICHAEL WILKINSON, IAN LISLE and VICKY LISLE.
Runners up were the Mundell Team - 
GISELLE MUNDELL, AVRIL ZETS, WILLIAM ZHANG and YUMIN LI.
Please join us tonight  to watch our Watermark Teams Championship Final on BBO. The two teams to fight it out are  the Korenhof and the Abel teams. Click on the link below to watch live.
Friday free lesson with Mike Prescott at 9.30am at East Lindfield. Please join me as this week's lesson is on Important Suit Tactics. The lesson goes for 30 minutes - then join our fun and friendly session at 10.00am. No partner no problem. Just come along and you will get a game. This is suitable for all levels of bridge players and everyone will get something out of the lesson so please come along.
Mike
Complementing last week's lesson on Playing No Trump contracts, tomorrow (Friday) Mike will focus on Playing in Suit Contracts.
It is a free lesson starting at 9:30am at East Lindfield - just before the 10am normal duplicate.
All welcome.
Playing No Trump contracts requires a somewhat different approach to playing suit contracts.
Mike will focus on No Trump Play Technique in the free lesson at 9:30am tomorrow (Friday) at East Lindfield - just before the 10 am normal duplicate.
All welcome.
The Bridge for Brain Research Challenge, an annual National event, was held earlier this year to raise funds for Alzheimer's research at Neuroscience Research Australia.
The top results across Australia are summarised here.
Full results across Australia can be seen here.
Best placed from Club Willoughby were Angie Boulton & Peter Boulton (NS) on 64% and Judy Marks & Adam Rutkowski (EW) on 56%.
Best placed from East Lindfield 9:30am session were Veronica Connell & Peter Koorey (NS) on 59% and Marlaine Gahan & Gwen Cordingley (EW) on 63%.
Best placed from East Lindfield 1pm session were John Bartrop & Owen Aubrey (NS) on 58% and Fiona Lavery & Esther Lee (EW) on 63%.
We were all very sad to hear of the loss of one of our long standing members, Noel Tobin, who passed away suddenly last Sunday. Noel had been a regular player at both Thursday night championship events and daytime duplicates for many years. In 2017 he won the club's Mens Pairs championship with Arthur Ramer.
Our condolences go to his daughter Ruth Tobin and the rest of the Tobin Family.
The funeral will be held next Wednesday September 5th at 10:30am at the St Martin de Porres Catholic Church, Prahran Avenue, Davidson.
We now have the results for the next of our Monthly Winners competition.
Every session at both Club Willoughby and East Lindfield resulted in a winner for the month of August. This will continue monthly for the rest of the year.
Check out how you went during August:
                               East Lindfield August Results - Click Here
This competition was held over 4 Saturdays in August. Results were scored across both the East Lindfield and Club Willoughby venues, with pairs counting their best three scores to produce separate winners in 5 Master Point categories. The winners were:
Category A    (More than 750 MPs)      Hymie Osie / Liz Wilkinson
Category B    (500 to 750 MPs)           Judy Osie / David Osie
Category C    (300 to 500 MPs)           Sandy  and Sandra MacGregor
Category D    (100 to 300 MPs)           Kathryn Stewart / Susan Feeney
Category E    (Less than 100 MPs)      Janice Heath / Lynne Kerry
Congratulations to all!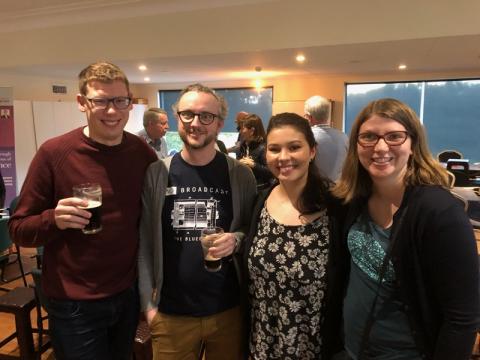 Thirty two teams battled out the annual Swiss Teams Congress at East Lindfield on Sunday.
When the smoke had cleared, the winners were the MILNE team. Runners up were DOBES and third were GUMBY. Prize for best Restricted went to the WILLIAMS team - a very creditable 6th overall!
1st  -  Liam Milne, James Coutts, Jessica Brake & Susan Humphries
2nd - Witold Chylewski, Warren Dobes, Les Grewcock & Marek Kolodziejczyk
3rd -  Pauline Gumby - Warren Lazer - Sophie Ashton - Sartaj Hans
Prize for Best Restricted:
        Rob Holgate, Neil Williams, Gale Spalvins & Carolyn Greenwich
Tomorrow's free lesson at 9:30 am will focus on "fourth suit forcing". What does it mean? When to use it? What are the responses
Come along to East Lindfield and stay for the 10am regular duplicate.
Contact Info
Club Manager  -  Mike Prescott   
Mbl: 0435 528 872  or  use Contact Form
Willoughby Venue
Club Willoughby, 26 Crabbes Avenue, North Willoughby
PO Box 608 Willoughby 2068
Tel: (02) 9411 3527
East Lindfield Venue
Lindfield Bowling Club, 2b Carlyle Road, East Lindfield
Tel: (02) 9415 8344