The Playoffs for the Women's and Seniors Teams has just concluded. The primary purpose of the Playoffs is to select the Australian Women's and Senior Teams to represent Australia in several international events in 2019. Probably surprising to everyone except themselves, the Pitt Team won the Women's final against the Travis Team.
Congratulations to our members HELENE PITT - HELENA DAWSON - GISELLE MUNDELL - AVRIL ZETS - LORNA ICHILCIK - RENA KAPLAN for a great result!
Join me this Friday at East Lindfield at 9.30am for my free lesson.
We all focus on declarer play whereas we spend at least half the time on defence. You will get many great tips to improve your game. All attending get notes to take home.
Nearly 130 players turned up for the XMAS Lunch in the Club Willoughby's dining rooms
When it came time for bridge, there were nearly 150 players in attendance
The NS winners were Judy Osie and David Osie
The EW winners were Alicia Mercer and Judy Twigg
Nearly 100 players turned up for the XMAS Lunch on Saturday.
Following a delicious meal, it was time for some serious bridge.
The NS winners were Janet Crocker and June Straw
The EW winners were Vivienne Kissane and Rosalind Hayden
Join Mike this Friday at 9.30am at East Lindfield for another great lesson. This week's topics will deal with: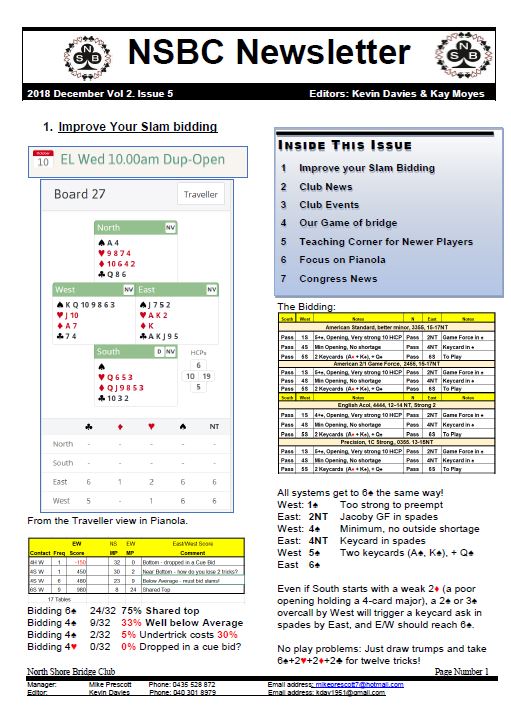 The latest newsletter - from the desks of Kevin and Kay - is now available.
If you haven't already seen it at the clubrooms or in your Inbox, you can click on the link below:
Entry to this event, held on Sunday, was restricted to players with fewer than 100 masterpoints. It is a handicap event scored across the state. Final results will be posted on the NSWBA's website in due course.
The winners at our club were Owen Aubrey and John Bartrop.
Runners up were Paulina Martin and  Ming Li.
The results for the November Monthly Winners competition have now been calculated.
Every session at both Club Willoughby and East Lindfield resulted in a winner for the month of November. This will continue each month into next year.
Check out how you went during November:
The Mixed Teams event at Club Willoughby was won by the KING Team:
Linda King, Kim Neale, Michael Cartmell, Nick Fahrer
Runners Up were the LISLE Team:
Vicky Lisle, Ian Lisle, Gary Lane, Julian Abel
3rd place went to the DAWSON Team:
Fraser Rew (sub), Lakshmi Sunderasan (sub), Helena Dawson, Richard Douglas. Also Bob Sebesfi, David Weston, Margaret Owen (sub).
Contact Info
Club Manager  -  Mike Prescott   
Mbl: 0435 528 872  or  use Contact Form
Willoughby Venue
Club Willoughby, 26 Crabbes Avenue, North Willoughby
PO Box 608 Willoughby 2068
Tel: (02) 9411 3527
East Lindfield Venue
Lindfield Bowling Club, 2b Carlyle Road, East Lindfield
Tel: (02) 9415 8344