Monday Nights Red Point November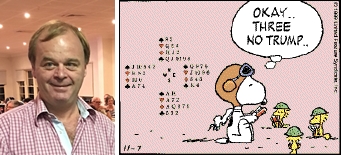 To promote our Monday night 7.30pm session, for the rest of November we are running RED POINTS.
Join Mike at 7.00pm for a free pre-game lesson. This week's lesson is Combining Your Chances.
All level of players - rookie and above - are invited to come along. Everyone will get something from this lesson.
Then join in the 7.30pm duplicate and try out your new tricks and get the bonus of it being RED POINTS.
No partner no problem. Just come along and you will get a game.