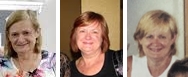 It is with great sadness that I write of the death of my dear friend
                                    Pauline Evans.
Pauline and I met in the 1980's as parents of young children and very new bridge players.
She was married to Jim and between them they had 5 children and I lost count of how many grandchildren. Pauline was always a devoted wife and mother, her family taking priority over everything else in her life.  However, that did not stop her from doing the things she loved.
Over the years she has represented NSW and Queensland at many ANC's winning numerous times.  She was always an asset on a team for her positive and happy nature.
She played, taught and directed bridge for the whole of her life, and I think her greatest joy was when she captained the Australian Women's team at the Venice Cup in Monte Carlo in 2003. She was a sensational captain and the team remain close friends to this day.
Pauline was diagnosed with multiple myeloma about 6 years ago and the prognosis is never a good one for that cancer.  She and Jim decided to make the most of every day and Pauline became an incredible fighter. They travelled the world, seeing every country on her bucket list and often had to return for treatment.  I never heard Pauline complain – on the contrary, she was always positive and happy. Pauline and Jim moved to the central coast around 5 years ago and they loved living there.  Only a few weeks ago she described their lifestyle there and how close they had become to their group of friends.
Since her diagnosis, Pauline won the Linda Stern Women's Teams twice and the National Women's in Canberra twice. She played bridge in Canberra in Bloom only two weeks ago and was still on top of the world.
Sadly, that is how we will have to remember her. She went downhill very fast but was surrounded by her whole family who arrived from all over the world.
Pauline knew how much we all loved her, and her passing will leave a huge gap in many lives.
Rena Kaplan