Thursday Evening Teams - May 20th

Teams session matches are extraordinarily difficult to set up under BBO.

Each match is set up individually and every member of each team needs to be invited individually. That's why it is very important that you be ready and logged in about 15 mins before the scheduled start time.
Due to some technical issues, it wasn't possible to transfer the results to Pianola - but every player has now received an email with the results.
After the first night, the standings are shown below, while the detailed results of the separate matches are listed below that.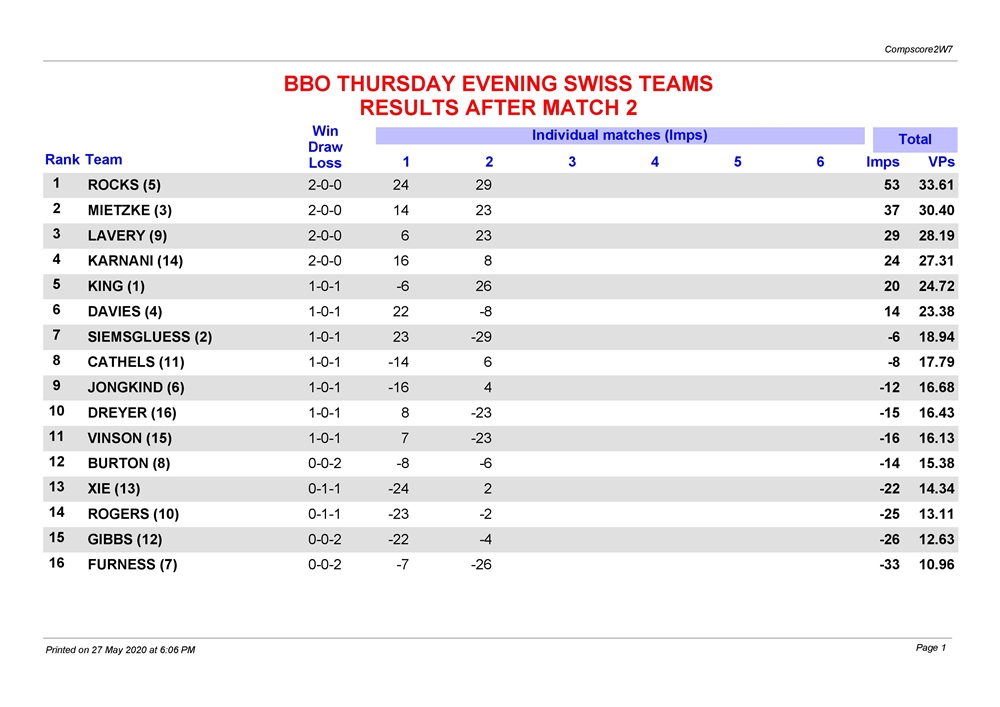 Next week please make sure all players are ready to go at 6.45pm. You must be logged into competitive area on BBO
Match 1
6 v 14
http://webutil.bridgebase.com/v2/tview.php?t=6796-1590050960
5 v 13
http://webutil.bridgebase.com/v2/tview.php?t=6825-1590051133
7 v 15
http://webutil.bridgebase.com/v2/tview.php?t=6889-1590051449
8 v 16
http://webutil.bridgebase.com/v2/tview.php?t=6781-1590050808
2 v 10
http://webutil.bridgebase.com/v2/tview.php?t=6998-1590051771
3 v 11
http://webutil.bridgebase.com/v2/tview.php?t=7046-1590051950
1 v 9
http://webutil.bridgebase.com/v2/tview.php?t=6926-1590051538
4 v 12
http://webutil.bridgebase.com/v2/tview.php?t=6981-1590051704
Match 2
2 v 5
http://webutil.bridgebase.com/v2/tview.php?t=7535-1590056294
1 v 7
http://webutil.bridgebase.com/v2/tview.php?t=7537-1590056297
6 v 12
http://webutil.bridgebase.com/v2/tview.php?t=7577-1590056658
8 v 11
http://webutil.bridgebase.com/v2/tview.php?t=7552-1590056471
4 v 14
http://webutil.bridgebase.com/v2/tview.php?t=7563-1590056543
10 v 13
http://webutil.bridgebase.com/v2/tview.php?t=7591-1590056794
9 v 15
http://webutil.bridgebase.com/v2/tview.php?t=7723-1590057430
3 v 16
http://webutil.bridgebase.com/v2/tview.php?t=7623-1590056953
Mike and Ronnie