June Newsletter Now Available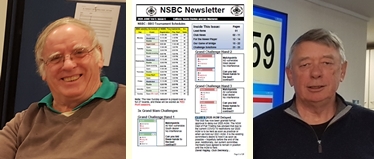 There has been a fantastic response from our members to the BBO events and tournaments that Mike and his team are providing - to make up for the competitions that we have lost at the club.
Many members have also made donations to our funds - to allow us to continue paying some staff who would otherwise have no income. That is fabulous - and much appreciated.
Kevin has again put together a great newsletter so you can keep up with the latest developments - and keep those grey cells active as well! The latest issue has articles on:
Weekly Schedule of BBO tournaments
A profile on Nick Fahrer - from The Bridge Shop
Self alerting on BBO
Progress scores on Monthly winners competition and Club Championship
A profile on Ian MacLaren - co-editor of this newsletter
Bidding and Play challenges from Kevin and Pat
Several aricles for our newer players - including new contributor Brad Coles
Leads revisited - expert article by Barbara Travis
                          . . . and much more. .
As the clubrooms are currently closed, you will not be able to pick up a printed copy at either of our venues.
Check your emails for the June Newsletter that was sent to you as a PDF attachment in the last day or so, or just click on the link below: