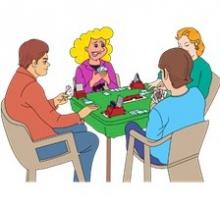 Did you know that we have a partner matchmaking service at our club?  Sue Crompton will help find you a suitable partner.  She knows all members, their bridge level, personality and
will be able to give you details of some possible candidates to try.
Sue is contactable on 0416 290 867.
Need a temporary Partner?
Has your partner gone on holiday or unable to play?  We have a number of options that you may wish to try.  Pianola has a partner finder service – this is a quick process – just log onto Pianola, click "partner finder" and place advert.  This will be emailed to club members who have specified that they are accepting partner invitations.  To help, we have made a short tutorial video on how to do this.
                                                 Click on Find a Partner 
Alternatively, just arrive/log in 20 mins early and let the Tournament Director know that you are looking for a partner.  They will either find you someone to play with or they will play with you.  In other words – we guarantee you a game.
Not having a partner should not be a reason that you don't play bridge at North Shore Bridge Club!