State Open Pairs Qualifiers at East Lindfield and Willis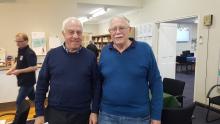 For the next three weeks we will be running face-to-face daytime qualifying sessions to select players to represent North Shore Bridge Club at the State Open Pairs Finals at the NSW Bridge Association in November.
These qualifying sessions will be the 1pm session at East Lindfield on Mondays 1st, 8th and 15th August. and the 12:45 session at the Willis on Tuesdays 2nd, 9th and 16th August.
The sessions will be the normal Open sessions that are run on those days, so you don't need to pre-enter - just turn up and play. You will score Red Masterpoints but will need to play on all three of these qualifying sessions to be considered for representation.
The last time the event was held was in 2019 when the winners were Derek Maltz and David Smee (pictured).
                                       ****************************** 
New Friday Morning Session
There's a new face-to-face session at the Willis on Friday mornings at 10am.
This Friday's event was won by John Syriatowicz and Leo Goorevich
Runners Up were Cris Gaskell and Mary Carter