July 2021 mid-month Newsletter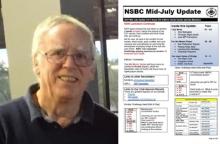 There is so much going on that Kevin is now producing a Newsletter TWICE each month. The result is a document about half the size of the previous monthly ones, with much more timely news and with reminders of upcoming events that will be happening in the next few days or weeks. 
In this mid-month update, articles include
Lots of new sessions available during the Sydney Lockdown
A new Online Winter Congress to be held August 7-8. Open and Restricted Pairs and  Open Teams
Messages from our managers Liam Milne and Gary Barwick
Expert articles by Pat Harrington and Brent Manley
Top Results in Competitions
New series of courses starting in July - all Online
and much more...
Look out for the Newsletter in your emails - sent as a PDF attachment  - or just click on the link below:
You can also find ALL our newsletters here