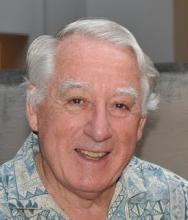 Ian Dixon, a director and teacher at Gordon Bridge Club, passed away last Saturday. Many members from the Gordon years will remember Ian fondly. As well as being a well-known face of the club, Ian was the winner of the Stirling Shaw Open Pairs at Gordon Bridge Club with partner Bob Lygo in 2014.
Ian's funeral will be held on Monday 26th July and will be streamed via Zoom. The link to the Zoom broadcast will be in Today's (Saturday) newspaper and we will endeavour to post the link and details here when we have them.

June Straw contributed these memories of Ian:
"Ian was a stalwart of the team at Gordon Bridge Centre for many years. He prepared and delivered talks before the many sessions where he was the director, and was a great help to new directors as we began to run sessions. Those were the days before CompScore2 and Bridgemates, and we used to sit at the computer at the end of the session and enter the results, then put them onto a memory stick and upload them from home.
Ian was a very caring soul and was interested in getting to know all the players. He was also responsible for starting the habit of stopping briefly for afternoon tea on Saturday sessions. He would bring in a delicious slab cake, made by Ann I believe, and after a while many of us joined in and the afternoon tea became the highlight of Saturday bridge for many. I am sure his aim was to encourage players to get to know each other.
We were sorry when his health declined and he no longer was able to come to bridge. Our best wishes go to Ann and the extended family."
Farewell Ian – we will miss you.