This Friday at East Linfield 9.30am, join Mike for his free lesson, followed by the Duplicate at 10.00am.
This weeks lesson is:
Going with the Odds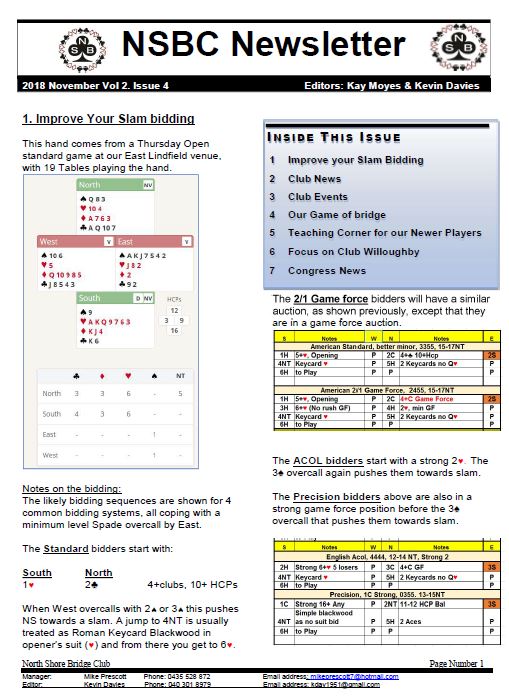 There's a huge amount of informative content in the latest Club Newsletter. A big Thank You to Kevin Davies and Kay Moyes - this month's joint editors - for all their hard work.
A fun day was had at both Club Willoughby and East Lindfield venues. Hat parade, lunch, cup sweeps and even some bridge!

                                  Hat Parades at Club Willoughby
This week Friday at 9.30am,  join Mike at East Lindfiled for a free 30 minute lesson before the 10.00am duplicate.
This week the lesson is on Slam Bidding Judgment. 
The results from this 3-week event were calculated from the participants' two best scores.
The Winners were Wenjie Liu and Ming Xie on 58.2%.
Runners Up were Mary O'Toole and Tina Strickland on 57.5%
The results for the October Monthly Winners competition have now been calculated.
Every session at both Club Willoughby and East Lindfield resulted in a winner for the month of October. This will continue each month for the rest of the year.
Check out how you went during October:
This week Mike will be giving a great, free lesson for all players at East Lindfield. The topic is "Pre-emptive Bids".
Responding, Opening and counting your tricks - and how many tricks does partner show.
There will be lots of information for players of all levels, so please come along this Friday 9.30am for the 30 minute lesson. Everyone gets notes to take home.
Congratulations to NSBC members Craig Mietzke and Denis Kristanda (on the right in photo) who were part of the winning team in the Two-Men-and-a-Truck Restricted Teams event at the Spring Nationals.
The Runners up were all NSBC members: Kit MEYERS - Kerry RYMER - Fiona FAWCETT - Catherine ELSE.
While Mike is at the Sydney Spring Nationals for the next two weeks, the Free Friday lesson wil be conducted by Sue Crompton. This week's lesson will be on Splinters - showing trump support and a shortage. It's a great tool for bidding slams and staying out of bad slams.
The lesson starts at 9:30am and is followed at 10am by the usual duplicate pairs. All welcome.
This event has a unique format with a scoring method which combines both Teams (IMPs) and Matchpoint (overtricks count) principles.
The winners were the OSIE Team:
Judy Osie, Witold Chylewski (Jun), Giselle Mundell, Avril Zets
Runners up were the DOBES Team:
Warren Dobes, Les Grewcock, Steven Bock, Kevin Davies
Third were the SMEE Team:
David Smee, Alexis Ngan, Julian Abel, Patrick Neary
Contact Info
Club Manager  -  Mike Prescott   
Mbl: 0435 528 872  or  use Contact Form
Willoughby Venue
Club Willoughby, 26 Crabbes Avenue, North Willoughby
PO Box 608 Willoughby 2068
Tel: (02) 9411 3527
East Lindfield Venue
Lindfield Rollers Bowling Club, 2b Carlyle Road, East Lindfield
Tel: (02) 9415 8344