Festival Matchpointed Swiss Pairs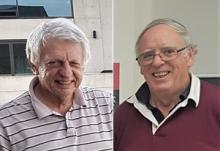 Government restrictions, following the covid breakout in Sydney's Eastern Suburbs, forced all the Open events in the NSBC Festival of Bridge to be conducted online on RealBridge.
The first event was the Thursday Matchpointed Swiss Pairs.
Winners were Leo Goorevich and Kevin Davies.
Runners Up, by the narrowest of margins, were Bruce Neill and Ron Cooper.
Third were Chris Panagiotaros and Matt Smith.
Best performing pair in the Restricted category were Michael Bishop and Mary Carter