Wayne Zhu - 2021 Club Champion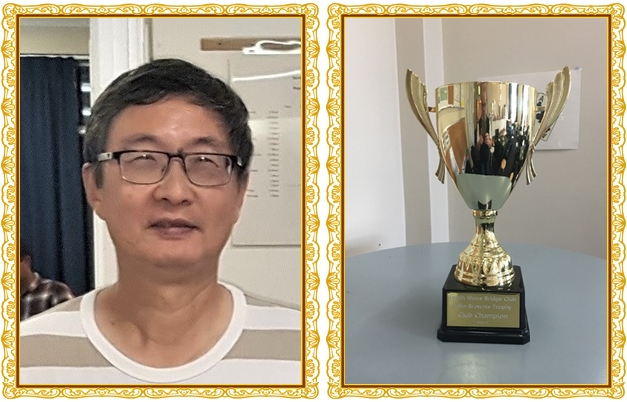 There were 22 events in the Club's Calendar that were considered Championship events. In each of these events, points were awarded to the first 7 placed club members - the top award mostly being 10 CC points, while 4 events were prestige events awarding 20 CC points to the winners.
This continues a tradition that existed for many years in the 'old' Lindfield Club.
Wayne Zhu is the Club Champion for 2021 and is awarded the John Brownie Cup. He amassed 84 CC points for the year. Wayne has been almost unassailable in this competition, having been top of the rankings since June. Runner up this year was Yumin Li on 77 CC points and third was Peter Jeffery who was Club Champion in 2019. Congratulations to all!
The first event for the 2022 Club Championship is the Summer Pairs Championship, which begins on December 30. Be sure to get your entries in here
The top 10 placings for 2021 are:
| | | | |
| --- | --- | --- | --- |
|   | Player | CC Points to Dec 16 | Events |
| 1 | WAYNE ZHU | 84 | 17 |
| 2 | YUMIN LI | 77 | 16 |
| 3 | PETER JEFFERY | 70 | 16 |
| 4 | TONY NUNN | 69 | 13 |
| 5 | DAVID FRYDA | 66 | 21 |
| 6 | DAVID WESTON | 60 | 17 |
| 7 | DAVID BEAUCHAMP | 59 | 9 |
| 8= | PETER GILL | 56 | 11 |
| 8= | YIXIANG ZHANG | 56 | 11 |
| 10 | MARTIN BLOOM | 52 | 11 |