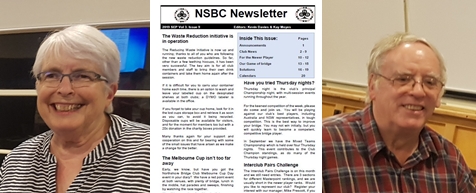 The team has produced another great edition of the NSBC Newsletter. This month much of the work was done by Kay Moyes while Kevin is travelling overseas!
There are many interesting and instructive articles including:
The commencement of the club's "reducing waste" policy.
Many successful results by club members.
Monthly Comp results, new books in the library and the inevitable two Bidding Challenges
Upcoming Club events and club members' ABF Master-point ranking promotions in August
Profiles focus on John Mottram and June Straw
Pat's instructive hand and solution
Anita's learning program for September
Fascinating Director's ruling by John McIlrath
Instructive article by Ron Klinger
Kevin's Solutions to bidding and play challenges
The back page covers our Club's, NSWBA and ABF Upcoming events
The newsletter is a great read, either in electronic PDF or just pick up a printed copy at one of our venues.