Our bridge club uses the premises of The Willoughby Sub-Branch of the Australian Legion of Ex-Servicemen and Women (Club Willoughby). This was formed in July 1945 when land was purchased in Crabbes Avenue, Willoughby around 1950. The first club building was officially opened on 30 April 1955.
We have leased permanent floor space on the first floor. There's a bridge office and two bridge rooms with capacity for 40+ Tables. Enter from the main club entrance in the car park - then NSBC is located to the right as you ascend the staircase. Visitors may have to sign in, but all NSBC members are automatically Club Willoughby social members.
Image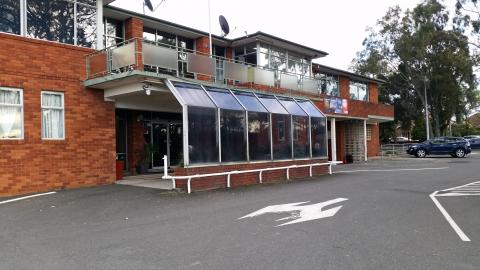 Address
Club Willoughby, 26 Crabbes Avenue, North Willoughby. Plenty of off-street car parking & next to major bus routes
Directions
Getting to  Club Willoughby via public transport:
Catch the train to Chatswood station, then transfer to the Bus interchange (Stand B). Alight at the second stop after the bus turns right into Penshurst St. (Click on Bus number for timetables). Buses leave every few minutes (trip takes about 5-10 mins).
257 Chatswood to Balmoral via Club Willoughby every few minutes

M40 Chatswood to Bondi Junction via Club Willoughby every few minutes
We play bridge 7 days a week (sometimes Morning, Afternoon & Evenings on the one day) at Club Willoughby. Club Championship are held on Thursday nights (bookings usually required).
Map location
-33.795803914638, 151.19805335999
Telephone