Thursday Night Mini Swiss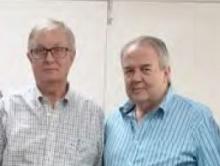 The first of two independent mini swiss events was completed last Thursday night.
Winners were Malcolm Carter and Tony Hutton.
Runners up were Linda King and Kim Neale.
Third were Jim Wallis and Bill Nash.
Why not come along and enjoy an IMP Pairs game on Thursday night! A fun way of getting through this lockdown stress. Please enter via "Upcoming Events"