Thursday Night Mini Swiss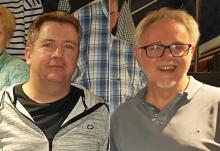 The final (for the moment) of our series of mini swiss events was completed last Thursday night.
The Winners, and taking home the $200 prize, were John Scotford and Patrick Neary.
Runners up, with $100 prize money were Witold Chylewski & Wieslaw Przewozniak.
Third with $50 were Brenda Kaplan and Helene Jacobson.
The next Championship event starts on Thursday night 8th July - The Club Matchpoint pairs. Same idea as the regular pairs games that you play on Realbridge - except that it runs for 3 weeks, earns Club Championship Points and Red Master Points. Oh yes - and there are cash prizes starting at $400!
You can enter via "Upcoming Events"
You can also see ALL Thursday night events for the 2021 here