Daytime Championship - State Open Pairs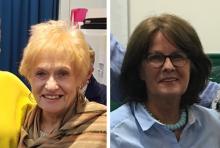 The NSBC State Open Pairs Championship event was run online over 3 Wednesday afternoon sessions.
The overall winners were Lorna Ichilcik and Helene Pitt. The pair will be nominated to represent our club in the NSW State Open Pairs.
Lorna

 

Helene

 
Runners Up were Judy Osie and Lynn Kalmin.
                 Judy

 

                      Lynn

 
Third were Patricia Lacey and Tim Mountjoy (the only thorn amongst the roses)